The Halifax Security Forum's Window on the World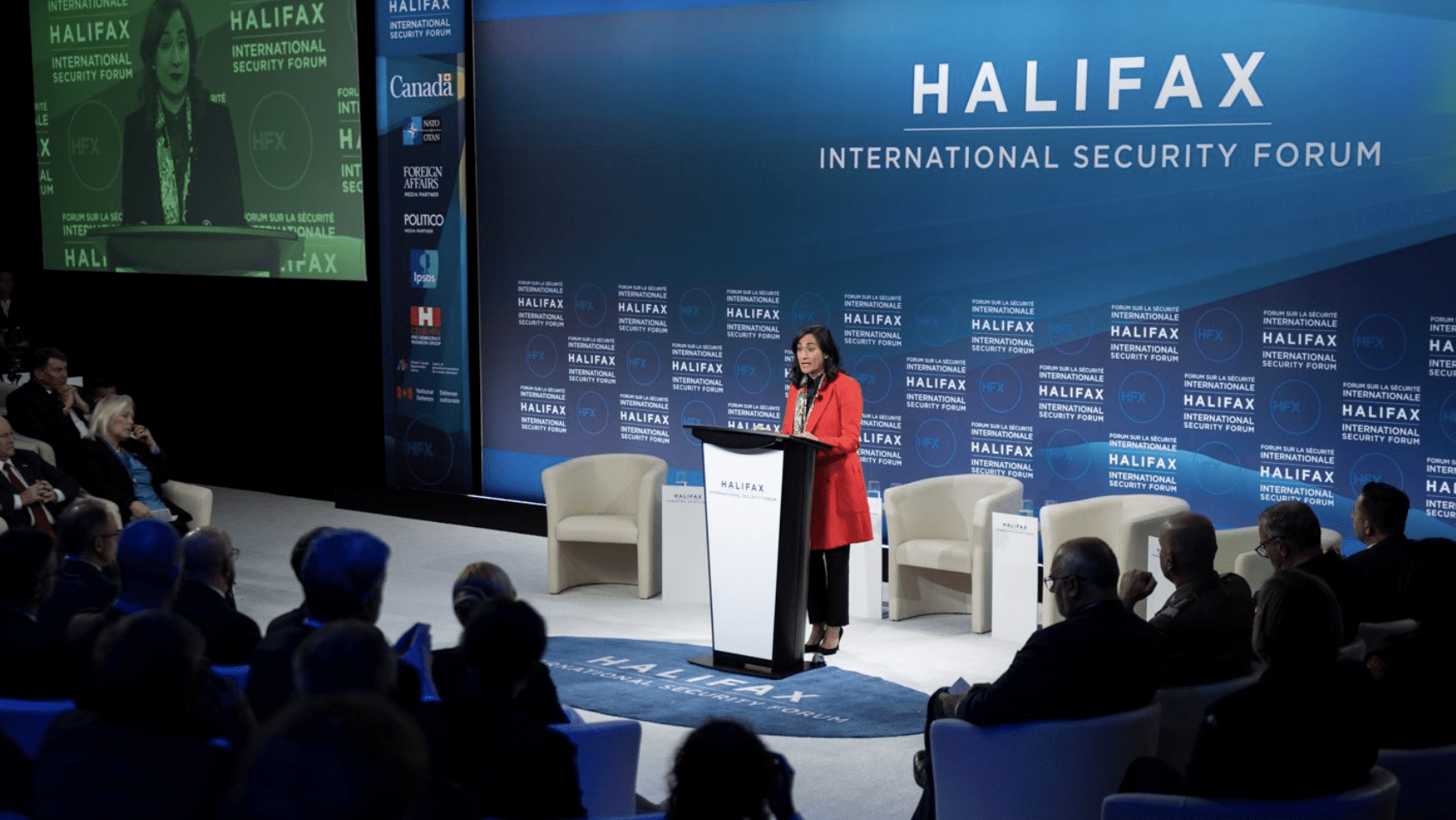 Colin Robertson
November 25, 2022
If last year's Halifax Security Forum was preoccupied by the US withdrawal and Taliban re-taking of Afghanistan and the threat of a rising China, this year's was largely focused on Vladimir Putin's illegal invasion of Ukraine.
Forum Founding President Peter van Praagh set the tone, underlining that the "tenacious bravery, defiance, and courage displayed by the Ukrainian people in the face of Russian aggression provides a renewed sense of purpose for defenders of democracy worldwide." In contrast to Afghanistan's Asraf Ghani, who fled the country as the Taliban approached, Volodymyr Zelensky quipped that he needed arms, not a ride out.
In his taped remarks to HISF, Zelensky reiterated the 10-point plan he presented to G20 leaders earlier in the week asking for a continued flow of arms as well as food and energy support, the release of prisoners of war and deportees, the implementation of the relevant UN Charter protections and the restoration of Ukraine's territorial integrity. "For peace to exist" argued Zelensky, "we must make all elements of Russian aggression impossible." What impressed those of us at the forum was the Ukrainians' determination to win despite the awful destruction and atrocities wrought by Putin.
A recent report by the German Marshall Fund assessed the cost of rebuilding damaged Ukrainian infrastructure at more than $US 100 billion, a manageable sum for donors when spread out over years. Critical to rebuilding will be a plan to improve Ukraine's governance, increase transparency and curb corruption.
At last year's HISF, weeks into the job, Canadian Defence Minister Anita Anand identified her three objectives as "First, cultural change in the Canadian Armed Forces; second, equipping our military; and, third, peace and stability at home and abroad." This prioritization puzzled the Europeans and unsettled the Americans for its lack of any reference to increasing Canada's NATO contribution. More trenchant (and controversial) criticism came earlier this month from Vimy Foundation Awardee Lt.-Gen. Michel Maisonneuve who said "Today, I see a military woefully underfunded, undermanned and under-appreciated."
American leadership consistently encourages Canada to spend more on defence and this message was repeated by this year's congressional delegation. NATO leaders agreed in 2014 to achieve a two percent defence spending target by 2024. The latest NATO figures (June 2022) put Canada at 1.27 percent, the US at 3.27 percent, the UK at 2.12 percent, France at 1.9 percent and Germany at 1.44 percent. When Democratic Senator Jeanne Shaheen of New Hampshire was asked at HISF about Deputy Prime Minister Chrystia Freeland's chances of becoming the next NATO Secretary General, she responded by asking about Canada's defence spending. Shaheen made her point.
This year, Anand focussed on defence and deterrence. "No matter how you look at it, our world is growing darker" Anand declared, adding that "emboldened authoritarian regimes are openly challenging the international order in pursuit of their own reckless agenda." Announcing that Canada wants to situate NATO's Defence Innovation Accelerator for the North Atlantic in Halifax, she said the West faces a choice: "Do we let the hard-fought gains of the past 80 years slip away and return to a world where might makes right or do liberal democracies stand together to preserve the longest stretch of progress, cooperation and freedom the world has ever known?"
Her US counterpart, Defense Secretary (and retired Army general) Lloyd Austin, making his first trip to Canada, remarked that "Ukraine matters" because "first principles are that countries don't get to invade their peaceful neighbors. Autocrats don't get to redraw borders by force. And the imperial ambition of bullies doesn't outweigh the sovereign rights of UN member states." Austin also warned that other autocrats are watching Putin and if he succeeds, they will think that "Getting nuclear weapons would give them a hunting licence of their own. And that could drive a dangerous spiral of nuclear proliferation." Asserting that "the Indo-Pacific is key to an open, secure, and prosperous world," Austin said the "pacing challenge is an increasingly assertive China—a China that's trying to refashion both the region and the international system to suit its authoritarian preferences."
Established in 2009 at the inspiration of van Praagh and then-Defence Minister Peter MacKay, HISF is a two-day conference for 300 mostly security and defence experts, former presidents, prime ministers, ministers and legislators, senior military officers, civil society and media. Originally trans-Atlantic in orientation, HISF identified itself as a security conference for democracies and those aspiring to democracy globally. In terms of conference quality and participation it ranks with the Munich Security Conference and the International Institute for Strategic Studies Shangri-la Dialogue.
HISF is a good place to take the pulse of current threats and to gauge the mood of Washington – in recent years it has been all about Trump – and to cross-check them with the trans-Atlantic and, increasingly, trans-Pacific participants.
Last year, in the wake of the retreat from Afghanistan, the Europeans asked "Is the US really back?" President Joe Biden's leadership on Ukraine and his team's continuing efforts to reinvigorate multilateralism at the NATO Madrid summit and within the G7 and NATO, as well as in the Quad and AUKUS, have put the debacle of Afghanistan behind him.
On Ukraine, the delegation echoed Secretary Austin's warning that stopping Putin is not just about Ukraine but sending a message of western solidarity to adversaries such as China who would like to upend the international order. 
There was also a palpable relief, especially from the Europeans, that the "red wave" had not materialized in the midterms and, for now, the malignancy of Donald Trump's assault on the democratic-led world order has faded. But concerns about the health of American democracy remain.
The presence of a bipartisan US congressional delegation along with a strong American government and policy community presence gives HISF participants a sense of current thinking in the capital 1,000 miles or 1,700 km to the south. With the midterm results almost complete by this year's opening day, the US delegation was anxious to underline the success of the election process, or as Democratic Rep. Jason Crow (Colorado 6th) put it, the election showed "an element of self-correction, a swing back towards moderation, towards good governance." He added: "The world saw it, and it was a relief."
But that doesn't change the politics. Republican Rep. Mike McCaul (Texas 10th) expects to chair the House Foreign Affairs Committee when the GOP assumes the House majority in January. McCaul has promised investigations into Hunter Biden's Ukraine activities as well as into the Afghan withdrawal debacle. But on Ukraine, the delegation echoed Secretary Austin's warning that stopping Putin is not just about Ukraine but sending a message of western solidarity to adversaries such as China who would like to upend the international order.
The congressional presence at HISF gives Canadian participants an ideal opportunity to advance Canadian objectives. And defend them we must as New York's Democrat Senator Gillibrand reminded us when she said for her near-shoring means jobs in the USA not in other countries. While her colleagues stressed 'friend-shoring' with allies, Gillebrand is reflective of a protectionism that is as old as the Republic.
In addition to Anand and several members of Parliament, Canadian officials included National Security Advisor Jody Thomas, Chief of Defence Staff General Wayne Eyre, Navy  Commander Vice Admiral Angus Topshee, Canada's Ambassador in Washington, Kirsten Hillman, and Ambassador for Women, Peace and Security, Jacqui O'Neill.
A splendid HISF initiative — marking its fifth anniversary this year — is the Peace with Women in Security Program that brings together a dozen women officers on the cusp of flag rank for a three-week orientation that takes them from Washington to Silicon Valley to Ottawa and then to Halifax, and in recent years to Brussels and other NATO capitals. Talk with the participants and it is clear that PwW is helping advance the role of women in our armed services.
Many Canadians will recall that, until his death, the late American Senator John McCain led the HISF "CODEL" and there is now an annual award in his name to those who fight for liberty, presented by his widow, Cindy McCain, currently serving as US ambassador to the UN food and Agriculture agencies in Rome. This year, Ukrainian First Lady Olena Zelenska accepted on behalf of the women of Ukraine.
On terrorism — the dominant theme during the forum's early years, the sense is that while requiring constant vigilance, it is a tactical issue better addressed not by the military but by intelligence and law enforcement agencies.
HISF also commissions an annual foreign policy survey of more than 32,000 people across 33 countries. Almost three in four (for Canada the figure is 76 percent) agree we could see a worldwide conflict like last century's major military confrontations. Those saying China will have a positive influence on world affairs dropped from 53 percent in 2019 and today stands at 42 percent. Most (85 percent — for Canada as well ) respondents to a global poll say that the world needs new international agreements and institutions that should be led by the democracies.  Two in three want their government to spend more on their military's power — an increase of 13 percentage points from last year.
Indeed, with Russia's military build-up in the Arctic and China's polar strategy, there was support at HISF for NATO to develop an Arctic strategy (most nations have strategies; Canada has a "framework" in development). When it comes to burden-sharing the Americans are clear: Canada needs to act on its promise to make NORAD renewal a reality. For them, this means a permanent military presence, including bases and an enhanced sea, air and space presence.
On terrorism — the dominant theme during the forum's early years, the sense is that while requiring constant vigilance, it is a tactical issue better addressed not by the military but by intelligence and law enforcement agencies. While understandable, the catalytic reaction to 9/11and the subsequent War on Terror likely unduly escalated this threat.
On China, the US may be polarized politically, but the congressional delegation said there is no divide when it comes to the China threat. Based on ongoing conversations with Taiwanese officials, including at Halifax, they see the Chinese threat as fundamentally a political challenge rather than a military issue. Does the CCP leadership, or more to the point, the for-now unassailable Xi Jinping, see the window of opportunity on Taiwan closing? If so, then a military option is possible.
As to other threats, the new battlegrounds of cyberspace and actual space require ongoing attention. Mutually assured destruction of satellite capabilities threatens not just military tactics that the world's great powers adopt, but our daily dependence on connections increasingly provided by satellites. It's a vital field in which Canada has expertise and history, if we are prepared to invest in it.
This year's HISF Builder Award went to Russian dissident Vladimir Kara-Murza who participated in last year's forum. Now imprisoned by Putin, Kara-Murza asked Peter MacKay to read his remarks:
"Such are the times – again – in Russia when the truth is considered a criminal offence. But if the choice is between imprisonment and silent complicity, then there really isn't any choice after all…a Europe whole and free will only become possible with a democratic Russia as part of it. Even in this darkest hour, I firmly believe that time will come – and, with strategic and principled global leadership in defence of the democratic order, we can all bring that time a little closer."
The rival political systems are in competition as to which better delivers social stability, shared prosperity and innovation. Canadians know which side they are on and increasingly so does our leadership, or at least some of it. As Chrystia Freeland recently observed, "Liberal democracy worldwide has today declined back to 1989 levels, and autocracies have been making a comeback."
So, it's game on. In this new not-so-twilight struggle, we need to engage and invest in defence and security as well as diplomacy and statecraft.
Contributing Writer Colin Robertson, a former career diplomat is a Senior Fellow at the Global Affairs Institute of Canada, based in Ottawa.