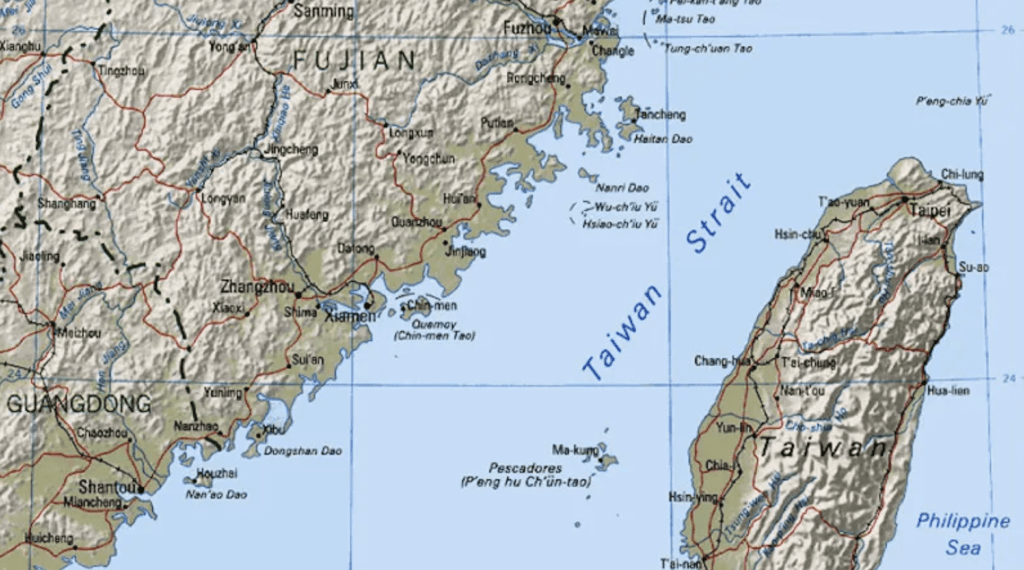 CIA Factbook
Colin Robertson
May 31, 2022
The current Taiwan Strait deliberations of the House of Commons Standing Committee on Foreign Affairs and International Development (FAAE) could not be more timely, especially as they relate to Taiwan, China and the South China sea. The government should pay heed to the committee's deliberations and integrate them into its long-promised, long-overdue, Indo-Pacific strategy. This new strategy must include a new approach to Taiwan.
I made my first visit to Taiwan in the spring of 1988, six months after being posted as consul to the British Crown colony of Hong Kong. Hong Kong was China's entrepot to the world as well as our best entrée into the rest of Asia. Hong Kong continues to be home to the largest concentration of Canadian citizens in Asia and the second-largest population of expatriate Canadians after the US. In the aftermath of the 1989 Tiananmen Square massacre in Beijing, many Hong Kongers emigrated to Canada. After obtaining citizenship, many returned to work in Hong Kong while keeping family and business ties with Canada.
I was also accredited to China. Every four months, I would travel north by rail from Kowloon through the New Territories, crossing the border at Lo Wu and then onto Guangzhou to attend to our consular cases while reporting on the economic developments in a China that, under Deng Xiaoping, was now determined to get rich. As Deng summarized his view on the role of ideology in economic development: "It doesn't matter whether a cat is black or white, as long as it catches mice." 
I watched Shenzhen change from bucolic rice paddies and water buffaloes to a booming frontier town of bamboo scaffolding and raucous growth. Today, it is China's Silicon Valley and home to Huawei.
I had already visited Beijing, with its hutongs and bicycles, and choked in the coal smoke. My visit to Taiwan reminded me very much of Beijing. The island's population was overwhelmingly Han Chinese but the island has been politically distinct from the mainland since the civil war that engulfed China before, during and after the Second World War (1927-49), producing the People's Republic of China ruled by the Chinese Communist Party (CCP) on the mainland and the Republic of China (ROC) ruled by the Kuomintang on Taiwan. The Kuomintang (KMT) and the CCP ruled in much the same way, both claiming to be the true representatives of the Chinese people. When I first saw Taiwan, Chiang Kai-shek's successor as president, his son Chiang Ching-kuo, had just stepped down. My posting concluded in 1992, four years before Taiwan's first free and fair election in 1996.
For the West, the iconic Asian leader of the time was Lee Kwan Yew of Singapore, friend of Pierre Trudeau and master of technocratic efficiency. Lee famously argued that "Asian values" were best protected by benevolent but autocratic government, a view China enthusiastically embraced as a capitalist alternative to democracy.
Taiwan has become a vibrant and lively democracy with peaceful transitions between parties, a free press, independent judiciary, and a competent civil service — arguably, the least corrupt in Asia.
Fast-forward to 2019, when I returned to Taiwan for another visit. Months earlier, I had visited Shanghai and Beijing – now modern and bustling cities. Taipei had kept pace.
But there was one fundamental difference.
As we drove into Taipei, we passed the official residence of its president, Madame Tsai Ing-wen (re-elected for a second four-year term in 2020). There was a demonstration. What was it about, I asked? It was in support of freedom of the press. An oligarch with ties to China wanted to buy a local newspaper, something the public opposed. The PRC disinformation and cyber campaign against Taiwan is relentless. Taiwan's disinformation defences should be studied by the West.
Taiwan has become a vibrant and lively democracy with peaceful transitions between parties, a free press, independent judiciary, and a competent civil service — arguably, the least corrupt in Asia. In its latest annual assessment of political rights and civil liberties, Freedom House scores Taiwan with 94 out of 100. (Canada scores 98, the US gets 83, China is ranked at 9).
I had dinner with Taiwan's minister for Information Technology, Audrey Tang. Applied technology, notably the production of semi-conductors – is the means by which Taiwan leapt into the ranks of developed nations. (In its annual evaluation of economic freedom, the Heritage Foundation ranks Taiwan 3rd among 39 countries in the Asia–Pacific region, China ranks 35th).
Minister Tang is transgender. A month earlier, the Taiwanese legislature had been the first in Asia to recognize same-sex marriage.
Yes, she told me, China is relentless in its campaign to destabilize and intimidate the Taiwanese through disinformation, cyberwarfare and intrusions into its airspace. But the Taiwanese people will defend their democracy. They rely on the US and wish the West were less cowed by China.
Against this backdrop, an observation and three recommendations:
Taiwan has become a democratic citadel in Asia. Through industry, innovation and freedom, its quality of life eclipses that of the mainland. This belies the CCP belief that Chinese people, indeed Asian people, want and do best under autocracy. A successful, democratic Taiwan undermines the very legitimacy of the Chinese Communist Party. If Hong Kong was, as Deng Xioping put it, "the pimple on the arse of China", Taiwan is the heretic state that Xi Jinping is determined to reunify with the mainland. Vladimir Putin, evidently, views Ukraine the same way.
Now that China has snuffed out democracy in Hong Kong, Taiwan is the best place in the Indo-Pacific from which to monitor the mainland. Taiwan's think tanks and intelligence about China are without peer. With China a source for pandemics but inclined to cover-up, Taiwan's proximity gives us early warning.
As to recommendations:
First, there is no quick fix for our challenges with China. We must stay engaged with the PRC for reasons of geopolitics, trade and our people-to-people ties. Working with China to address climate change, pandemics, and nuclear proliferation is essential. But we need to do so with eyes wide open because China is actively challenging our rules-based order.
China sees itself as the rising superpower, but with power comes responsibility. It should initiate a pragmatic end to the disputes on its frontiers and in Asian waters.
Our current China policy of "eyes wide open", with a fourfold approach of "coexist, compete, co-operate, and challenge", was enunciated by then Foreign Minister Marc Garneau after the resolution (September, 2021) of the Meng Wanzhou-two Michaels standoff. But it is more talking points than substance. At a minimum, we need a re-examination of our policy on the activities of Chinese state-owned enterprises as well as a full discussion of Chinese disinformation, cyber-intrusions including intellectual property theft, and efforts to subvert democracy worldwide. Intimidation of Canadian citizens of Chinese descent must be resisted and the malefactors sent packing. The Declaration on Arbitrary Detention also needs teeth – sanctions – to prevent more Chinese hostage-taking. 
For Canada and its democratic partners, engagement alone won't address the tensions arising from China's ambition to predominant power in the Indo-Pacific. The democracies cannot permit the foremost authoritarian state to dominate the Indo-Pacific, shape its strategic culture and set the rules. The democracies need structures and new frameworks for collective pushback to respond when China behaves badly and acts in violation of international law.
For now, our fundamental differences on values such as human rights and democratic institutions require a robust defence that will require investment in both hard and soft power.
Second, we should do more to support Taiwan.
Taiwan's geostrategic position in the South China sea, through which our trade must pass, is critical. In what is shaping up to be a long confrontation between autocracy and democracy, Taiwan matters to Canada. Toward this end, we need to:
Promote trade and investment and encourage more people-to-people ties, including marketing Canadian schools and universities and Canada as a destination for tourism and immigration.
Taiwan is exemplary in its promotion of democracy globally. Canada should find opportunities to partner with them.
Resume ministerial visits. The last minister to visit was then Industry Minister John Manley in 1998.
Support Taiwan's legitimate aspiration to join institutions such as the Comprehensive and Progressive Agreement for Trans-Pacific Partnership (CPTPP), the World Health Organization (WHO) and the Montreal-based International Civil Aviation Organization (ICAO). Just as functionalism has worked for Canada, so it should for Taiwan.
Third, the Indo-Pacific is a region of vital importance to Canada's security and prosperity.
We have been working on a strategy for over five years. We can no longer afford to procrastinate. In the meantime, our key partners – the United States, the United Kingdom, European Union, Australia, New Zealand – have all implemented strategies flexible enough to adapt to change. Our strategy needs to include the following:
Shift from our current episodic, issue-based engagement in the region to a more persistent presence with key states and institutions of interest. We need to vigorously engage with emerging coalitions such as the Australia-India-Japan-United States (Quad) supply chain resiliency initiative.
Protect and support freedom of navigation in areas where it is under threat. That will require an increased maritime – especially naval – presence.
Increase participation in military exercises with allies. This must include ship visits in the region to boost Canadian trade and to support diplomatic and academic overtures as well as to assert our national policy on the United Nations Convention on the Law of the Sea.
Re-think and re-engage in security dialogues such as the East Asia Security Dialogue and organizations like ASEAN and the Quad.
Canada's interests in the Indo-Pacific require sustained diplomatic engagement and military presence.
As a matter of urgency, we need a comprehensive Indo-Pacific strategy that includes a new approach to Taiwan. For the good of Canadians and to ensure policy continuity through government transitions, it should enjoy the support of the Official Opposition and the provincial premiers, as well as the government.
The Pacific is one of Canada's oceans. We don't pay enough attention to it. Now, we must.
Contributing writer Colin Robertson is a former career foreign service officer and diplomat who has served in America and Asia. He is now Senior Advisor and Fellow of the Canadian Global Affairs Institute in Ottawa.