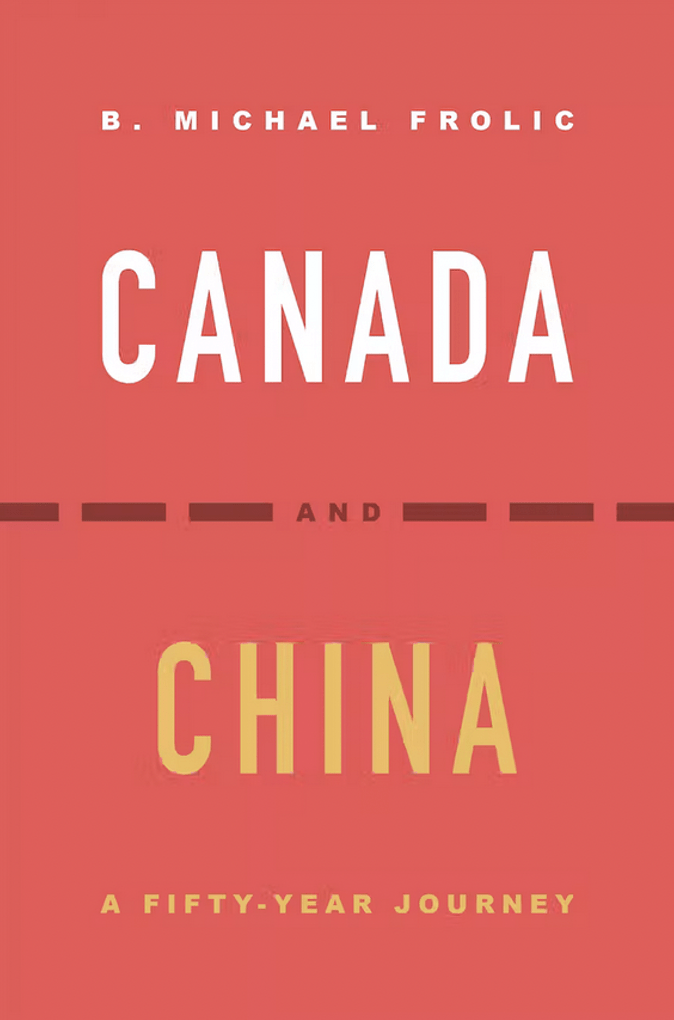 Canada and China: A Fifty-Year Journey
By B. Michael Frolic
University of Toronto Press/2022
Reviewed by Colin Robertson
POLICY MAGAZINE February 7, 2023
The famous Chinese aphorism attributed to Taoist philosopher Laozi holds that "The journey of a thousand miles begins with a single step." The first step in B. Michael Frolic's Canada and China: A Fifty-Year Journey begins with Prime Minister Pierre Trudeau's recognition of China in 1970 — a diplomatic watershed that predated the Nixon-Kissinger visit to China by more than a year and full US normalization by nine years. The book traces the thousand miles from the senior Trudeau's breakthrough to Justin Trudeau's relations with a much different China 50 years later.
Bernie Frolic, as the author is commonly known, is Professor Emeritus at York University and one of Canada's preeminent China watchers. Frolic was one of the Canadian scholars who served (in his case during the 1970s Cultural Revolution) with the diplomatic rank of first secretary at our Beijing Embassy. He has been to China more than 60 times, visiting almost all of its 31 provinces.
Canada and China draws on those experiences, with excerpts from his personal diary, and his half-century of deep research into accessible government documents (alas, China is opaque on this front) and from teaching thousands of Chinese officials, corporate executives and educators. He has also talked with fellow China watchers and those in the Canadian government, interviewing all fifteen of our ambassadors as well as five prime ministers and ten foreign ministers, business and civil society.
The book is scholarly but readable, and Frolic punctuates his story with personal recollections that started when he "stepped off the train in Beijing in 1965." It complements Paul Evans' Engaging China: Myth, Aspiration, and Strategy in Canadian Policy from Trudeau to Harper (University of Toronto Press, 2014) which has been the essential reference on Canada's relationship with China.
Canada and China describes the evolution of Canadian policy from Trudeau's recognition in 1970 of the People's Republic of China through Tiananmen Square, the Chrétien era 'Team Canada' missions, the frostiness of the Harper years and then the aftermath of the debacle created by the '3Ms' — Michaels Kovrig and Spavor and Huawei executive Meng Wanzhou – recounted in The Two Michaels: Innocent Canadian Captives and High Stakes Espionage in the US-China Cyber War by Mike Blanchfield and Fen Osler Hampson (and reviewed in these pages).
The last half-century has seen the emergence of China as a dominant regional power. No longer content to 'bide its time' it now has global aspirations, presenting itself as an autocratic alternative to our current liberal, rules-based system. As Frolic writes, "how Canada dealt with this changing China is the story of this book."
Frolic says the relationship has gone through three distinct phases. The first was initiated by Pierre Trudeau, who had twice visited China before becoming prime minister. Trudeau saw recognition of China as both a way to lessen dependence on the United States and to assert a more independent foreign policy that resonated with our domestic economic interests. In the early years after normalization, we were "strangers" seeking to set aside our "substantial differences, political and economic". As we did so, we mutually saluted our "friendship" and "partnership".
Tiananmen Square precipitated a second phase, where human rights moved to the forefront. Of Canada, Premier Li Peng, who sent the troops into the Square, told then-Ambassador Earl Drake, "We don't need you". Frolic says one Canadian ambassador subsequently told him, "The days of romanticism in our China policy are over. We have to be realists now."
Things were never quite the same again, although trade flourished and the Chretien 'Team Canada' missions worked wonderfully to both increase trade and demonstrate to Canadians that when their first ministers work in tandem, we all benefit.
Under Stephen Harper, says Frolic, Canada-China relations began the third period. Harper treated Beijing as an adversary, receiving the Dalai Lama in his office and making him an honorary Canadian citizen — a clear provocation to a regime that uses foreign treatment of the Buddhist leader as a litmus test for economic and diplomatic relations. Justin Trudeau promised to reset the relationship through closer trade ties but was rebuffed when he wanted to incorporate provisions relating to labor, environmental and human rights. Then came the 3Ms.
Reviving Mao's favourite epithet for counterrevolutionary lackeys, one Chinese diplomat told me recently, perhaps half in jest, that Beijing sees Canada as a 'running dog of American imperialism'.
We remain at a low point — most China hands think the lowest since prior to recognition of the PRC. That nadir reflects a global hardening on China in response to Beijing's anti-democracy activities worldwide, its treatment of Uyghur Muslims, its continued crack-down on Tibet, minorities and dissidents within China, its control of Hong Kong and its belligerent approach to diplomacy, especially towards Taiwan, since the geopolitically disruptive Trump presidency.
At some point a reset will happen. Frolic offers advice noting that our China policy has traditionally focused on three baskets: trade, human rights and people-to-people ties. Now, we also need to add a fourth basket that covers security, including theft of intellectual property, business information and cyberattacks as well as the security of the diaspora and our democracy.
The trade relationship has endured despite the ups and downs of geo-politics. We have food, energy and fertilizer. China needs all three but not at the price of the 'progressive' chapters on human rights, labour and the environment that are now part of our trade catechism. If we want to trade, we should do so with eyes wide open and on the basis of reciprocity.
On human rights, Frolic writes, we need to accept that our efforts to change Chinese practices have "consistently failed".  We also need to recognize that, geopolitically, we are a "marginal partner" for China, "one that the PRC can bypass whenever it wants". It's a harsh but realistic assessment. Reviving Mao's favourite epithet for counterrevolutionary lackeys, one Chinese diplomat told me recently, perhaps half in jest, that Beijing sees Canada as a "running dog of American imperialism".
Our people-to-people ties are important and continue to grow with immigration and Chinese students and tourists, although the flow has declined with COVID and cooling relations. This is where we have an opportunity to improve relations through public diplomacy, including cultural engagement.
A useful initiative would be to revive the practice of bringing a scholar into our Beijing Embassy for the sort of two-year diplomatic assignment that employed Frolic and others from 1975-2001. Both government and academe benefit from the experience and it will both replenish and reinvigorate our cadre of China experts.
Frolic acknowledges we have to stop China's "relentless push to gain access to Canadian intellectual property." Then there are the CCP's covert activities in Canadian Chinese communities, at our universities, schools and in our municipal, provincial and federal politics. These are well documented by Jonathan Manthorpe in Claws of the Panda: Beijing's Campaign of Influence and Intimidation in Canada (Cormorant, 2019)
The United States has always been critical to Canada-China relations. As Lester Pearson pithily put it, "Better to have peace with Washington than relations with Beijing." That our trilateral dynamic comes with baggage was brought home in the Meng Wangzhou/Two Michaels controversy. Washington got us into the fix when they asked us to hold Meng in Vancouver. Did we think through the implications and consequences? The Chinese, who had already declared Canada to be an "American satellite" sanctioned our beef, pork (until they needed it) and canola and took the Michaels hostage. Donald Trump's comment that he "would certainly intervene if (he) thought it was necessary" to protect US interests in the emerging Sino-US trade war led Canadians and Meng's defenders to argue that for Trump she was just a 'bargaining chip'. It was the intervention of another American president, Joe Biden, that brought the Michaels home.
What have we learned over the past half century? For Frolic, it is that China remains unique. It does not follow western norms and values. The challenge for our governments is to develop a policy that can account for these differences, especially on the human rights that matter to Canadians.
It's no simple challenge. Frolic cites Paul Evans agreeing that "We don't have a whole-of-Canada approach to China yet, not even a whole government approach." At this point, that has much to do with timing. China is a power in transition between the fallout from the world's negative response to its economic, diplomatic and human rights actions in this century and whatever comes next — a story playing out across a number of contexts from Ukraine to the World Trade Organization to the many datelines along its belt and road infrastructure and influence project.
Canada's Indo-Pacific strategy provides a framework, but it's not a China strategy. For now, we are left with former Foreign Affairs Minister Marc Garneau's "eyes wide open" Four Cs: coexist, compete, cooperate and challenge.
In his final chapter, "Resetting Relations", Frolic observes that "understanding China is an elusive concept." He concludes that "In the future, Canada's relations with China will be pragmatic and pedestrian: middle power to big power, democracy to one-party state, without any illusions that they will be particularly special." It's a fair assessment.
The prime ministers who understood China the best are Pierre Trudeau, Brian Mulroney and Jean Chrétien. They each invested their personal time and effort into the relationship. Of the three, Pierre Trudeau captured the dilemma best when he told Frolic:
"I never thought it would be easy to work with China. It is an authoritarian state. But after I had been there, I realized China had to become part of the rest of the world, and we needed to know much more about it."
Pierre Trudeau was right. And Frolic's Canada and China is a good place to start learning more about China.
Contributing Writer Colin Robertson, a former career diplomat, is a Fellow and Senior Adviser with the Canadian Global Affairs Institute in Ottawa.