Three Amigos Summit sets up Biden's Ottawa visit to focus on critical minerals, 'North American industrial policy': experts
Joe Biden will visit Canada in March for the first time since he was elected U.S. president and Canada's critical minerals is expected to top the agenda.
As the North American Leaders' Summit wrapped up in Mexico City on Jan. 11, the eyes of stakeholders, MPs, and expert observers are turning quickly to U.S. President Joe Biden's anticipated visit to Canada in March—the first official visit of his presidency.
The Three Amigos Summit ended with many promises made between the three countries, with a heavy emphasis on migration, drug trafficking, and trade. Canada walked away with a promise of further attention from Biden after he finally committed to making his first state visit to Canada in March, two years into the leader's mandate.
"That's a big deal, Canada should be happy about that. And the planning is in earnest now for March," said Scotty Greenwood, CEO of the Canada-American Business Council and an expert on Canada-U.S. relations.
Asked what the focus will be during the next few months as both governments prepare for the visit, Greenwood said critical minerals and the production, processing, and recycling of them.
"That's huge. Actually, I think that's maybe the biggest opportunity for Canada," she said.
The United States will always turn to its allies for help on global and regional issues, Greenwood said. And critical minerals could be a way for Canada to not only improve its trade relations with the U.S.—which at times have been fraught under Biden's protectionist 'Buy American' policies—but would also be seen as a way to assist the U.S. on issues of global importance, particularly when it comes to China, Greenwood said.
"Critical minerals helps with the China question, and it helps with North American competitiveness and investment," she said.
"Industry is [ready for it], provinces are [ready for it], and the feds seem to be indicating an interest in it. We'll see. We'll see what they come up with between now and March," she concluded.
Canada released its Critical Minerals Strategy on Dec. 9, 2022, one month before the summit. The driving motive behind the strategy is to mine critical minerals in Canada to "support the development of domestic and global value chains for the green and digital economy."
"Critical" minerals are technically subjective, and the determination of what is a critical mineral changes based on need. Currently, critical minerals including lithium, graphite, nickel, cobalt, copper, and rare earth elements are highly sought-after as they are essential to the development of clean energy, including batteries for electric cars.
At the summit, the United States and Mexico were primarily concerned about migration and cross-border drug trafficking. Combatting American protectionism, meanwhile, was a priority for the Canadian delegation to the summit, as evidenced by Prime Minister Justin Trudeau's (Papineau, Que.) emphasis on free trade between the three countries.
"We share deep ties as friends and trading partners," said Trudeau early in his remarks at joint press conference held after the trilateral meetings on Jan. 10. In French, he lauded the decades-long partnership between Canada, the U.S., and Mexico via the North American Free Trade Agreement (NAFTA)—now the Canada-U.S.-Mexico Agreement, or CUSMA.
But trade between the three countries—particularly Canada and the U.S.—is often mired with disputes, and Biden's 'Buy American' policies have at times threatened the integrity of markets that are very much integrated across borders, including the auto industry.
Laura Macdonald, an expert in North American politics at Carleton University's political science department, said Canada's main objective at the conference was to stress "co-operation, not competition between the three countries."
She said Canada generally got what it wanted out of the discussions—no mention of 'Buy American' policies, and getting trilateral commitment on things like mapping critical minerals, and deepening supply chains—which will now set the stage for Biden's upcoming visit. Macdonald noted the leaders avoided specific trade disputes and instead focused on the bigger picture.
In a Jan. 10 press release from the Prime Minister's Office detailing Trudeau's meeting with Biden, critical minerals earned second mention—after the headliner of Biden's upcoming Ottawa visit—highlighting "the critical importance of North American trade, competitiveness, and supply chains, including critical minerals and semiconductors."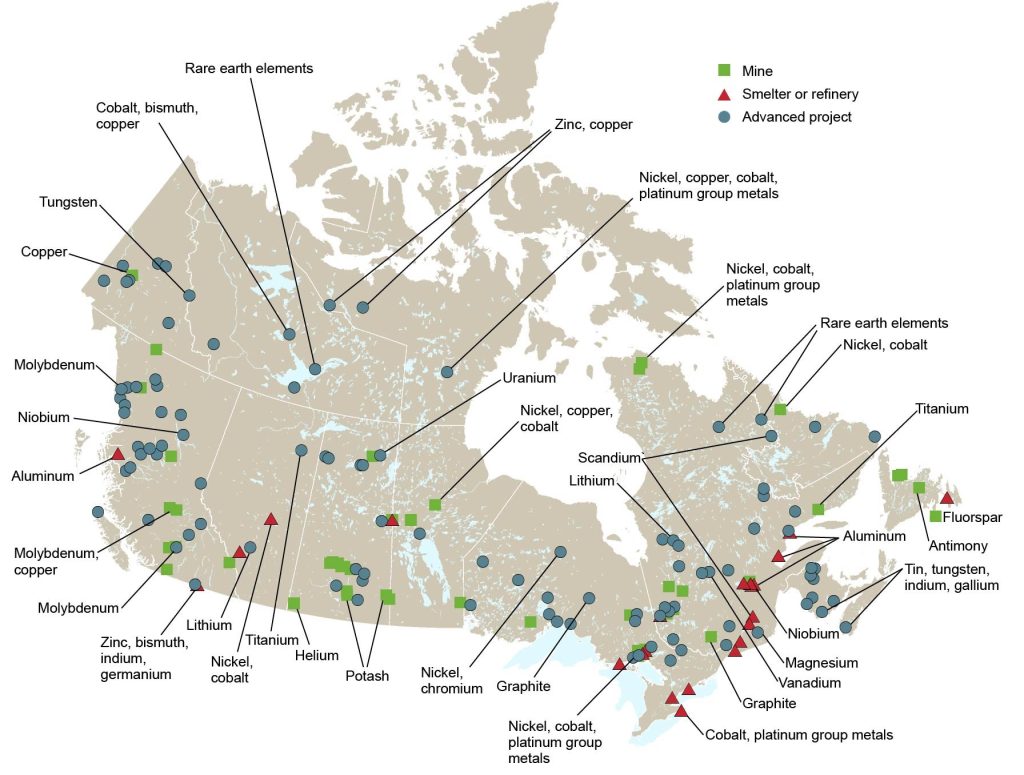 Canada's Critical Minerals Strategy is important for the country's transition to a green economy, but also as a bargaining chip for Canada in the international arena. The strategy comes as the European Union moves away from reliance on Russian energy, and the U.S. looks to source resources from its allies, rather than foes—particularly China. (In fact, in November 2022, Canada declared its critical minerals would be off-limits for Chinese investment—a strategy business columnist David Olive wrote was "friend-shoring.")
Former Canadian diplomat and expert in Canada-U.S. relations Colin Robertson said the critical minerals question is central to reinvigorating "the North America idea."
"The North American idea, which has waxed and waned, actually may have some more life to it. We'll see. The tests will come with these ministerial-level meetings, [where] attention from the top on the economic front is supply chains, electric vehicles, semi-conductors, [and] how we manage critical minerals," Robertson said.
Robertson pointed to how critical minerals are essential in auto production. If Canada can mine critical minerals and make the country an essential partner for electric vehicle (EV) production, then it can have some leverage when engaging in trade talks with American counterparts. Recently, Biden caused some strain on the Canada-U.S. trade relationship when he offered Americans a rebate if they bought EVs produced entirely in America, excluding those that may have had Canadian parts.
"We do have the potential to create a new electric vehicle to kind of rebirth the North American car industry," Robertson said.
"Basically what we're moving to is a North American industrial policy," said Robertson. "Americans have adopted it, Mexicans are there. … We're getting into it, almost from an external perspective, rather than internal."
Macdonald noted the critical minerals strategy would likely continue to play a significant role in Canada-U.S. relations, particularly with the upcoming Biden trip.
But Macdonald noted that while there's a lot of excitement around these critical minerals, most of them are still very much in the ground, and much of that ground is on Indigenous land.
"There's a lot of emphasis on Canada's possession of a lot of critical mineral resources. I think they recognized in the statement, there are a lot of issues around recognizing the rights of Indigenous peoples and communities in development of those resources. And those are really tough issues. It's going to be interesting how Canada starts approaching more intensive development of those factors," she said.
NDP MP Brian Masse (Windsor West, Ont.), his party's trade critic, said it's clear Canada is still repairing "the damage and the distance" with the U.S. and Mexico.
"Things that should have been low-hanging fruit and accomplished before the summit were still being dealt with," he said, referencing the problems with Nexus, the expedited travel program for frequent Canada-U.S. cross-border travellers.
As part of their bilateral talks, Biden and Trudeau came to an agreement to clear the backlog on Nexus.
As a border MP, Masse said he's glad to see a temporary solution for the program being put in place, but said it was "shocking" it took a meeting between heads of state to finally make progress on the issue.
Masse said the U.S. lacks trust in Canada to follow through on its commitments. He suggested the same issue would come up again regarding critical minerals.
"We're, again, talking about how we can deliver on things, and we really focus on the hyperbole, but we have less, you know, real solid action plans to get them done," he said.
The U.S. wants Canada to get more involved with Haiti
Macdonald noted that during the summit, extra-regional problems garnered a good deal of the focus in Biden-Trudeau discussions, including the war in Ukraine and the potential for Canada to play a bigger role in Haiti.
"It seemed that Canada was responding to pressure from Biden to ramp up its commitments in those areas and addressing threats outside of the region," she said.
Macdonald said she thought these international issues would continue to emerge when Biden visits Canada in March. Biden put forward the idea of Trudeau having Canada lead a United Nation mission to the island nation struggling under gang violence.
"The big issue might be Haiti. Trudeau, I think wisely said that Canada would be consulting with Haitians about what they thought would be helpful, and I doubt he's going to get many Haitians to say that it would be really helpful to have Canada lead a new UN mission," she said.
It's now Canada's turn to host the next North American Leaders' Summit sometime next year.