Allan Gotlieb died last week at the age of 92, but his insights into the U.S. and the value of public diplomacy continue to have application and relevance today.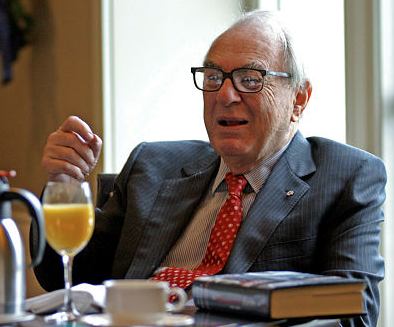 Allan Gotlieb, pictured at Wilfrid's at the Château Laurier Hotel in 2006 for an interview about his book, The Washington Diaries: 1981-1989, a national bestseller. He saw government as a powerful force for the good: generating and testing ideas and then applying them to practical purpose, writes Colin Robertson. The Hill Times photograph by Jake Wright
The best of mandarins, as our ambassador to the United States, Allan Gotlieb revolutionized Canadian diplomacy with our primordial partner. His insights into the U.S. and the value of public diplomacy continue to have application and relevance.
His schooling set him up as a comer: as an undergraduate at Berkeley, a Rhodes Scholar at Oxford, and then Harvard where he edited the Law Review. In 1957, Gotlieb joined what one of his Oxford tutors told him was the best foreign service in the world.
He developed a life-long appreciation of the importance of the rule of law in international relations, starting with his work on the Law of the Sea under the mentorship of our most accomplished lawyer-diplomats, Marcel Cadieux, who also served as our ambassador to the U.S.
International law, Gotlieb tutored me and fellow foreign service officers, is how middle and small powers level the field against the big powers. It didn't always work—there is a trap door for the great powers—but for a country like Canada it should be the instinctual approach. It works best when we act in association with like-minded countries and Gotlieb told us never to discount our power as a convenor of nations. But if multilateralism didn't succeed, then we should try bilateralism. He thought this especially important when dealing with the United States because while deepening integration made us more dependent, it also gave us certain advantages, if we were smart enough to use them.
As a young foreign service officer, Gotlieb impressed then federal justice minister Pierre Trudeau. They shared sophistication, brilliance, and supreme self-confidence. Neither suffered fools. They could be abrasive. Empathy was not a strong suit. After Trudeau became prime minister, Gotlieb was promoted into the new generation of deputy ministers, serving in the freshly-minted Department of Communications (1968) and then at Manpower and Immigration (1973).
As a favour to professor Peyton Lyon, a fellow Winnipeger and former foreign service officer, Gotlieb spoke to my class at Carleton University's Norman Paterson School of International Affairs. I can still see his cigar—autre temps, autre moeurs—punctuating his points about our open immigration system and how attracting those with the talents we needed served Canadian interests. If geography was destiny so was demography and we could shape it through public policy. He saw government as a powerful force for the good: generating and testing ideas and then applying them to practical purpose.
For Gotlieb, policy coherence was vital. So was policy coordination. Returning in 1976 to the Department of External Affairs as its undersecretary, Gotlieb determined to give it a central role in developing Canadian policy. This meant making External Affairs a central agency, the equal of the Department of Finance, Treasury Board Secretariat and Privy Council Office. Rather than run programs—it had very little discretionary funds—External Affairs would coordinate Canada's international policies using its brain-power and the intelligence of its missions abroad. We were encouraged to offer dissenting perspectives, often published publicly in International Perspectives. Gotlieb led by example and I still remember a trenchant piece on the Third Option that he penned with Jeremy Kinsman (whose own tribute to Gotlieb should be read).
Gotlieb set about consolidating the foreign service. Lacking authority and budget, the department could not control, but it could better coordinate activities abroad if Canada was to punch its weight internationally. First, under its orbit came the trade commissioners followed by the immigration officers. It would take another 20-plus years before development and its big budget would join what is now Global Affairs Canada.
Raising the foreign ministry to central agency status was the right one. Yet it failed to take. There was bureaucratic resistance to ceding turf and his successor as deputy minister did not share the Gotlieb vision.
More successful and more enduring was Gotlieb's reform to how we do business in Washington. His eight-year tenure as ambassador between 1981 and 1989 was marked by two main trademarks: an ambitious and activist public diplomacy and an activist strategic outreach to Congress. Both were vital to achieving the 1989 Free Trade Agreement and then, after he left, the 1991 Acid Rain Accord. Carried forward by his successors, this blueprint continues to deliver results for Canada.
Gotlieb and his wife Sondra figured out how Washington worked. An invitation to their Rock Creek residence was a guarantee of powerful people and consequential conversations. His Washington Diaries published in 2006 describes, for example, visits by secretary of state George Shultz and his wife who would come and relax while watching Fred Astaire and Ginger Rogers movies. Gotlieb also secured the prized location that our embassy enjoys on Pennsylvania Avenue and beat back the bean-counters and worry-warts who thought the Arthur Erickson-designed embassy was too grand. Cultural diplomacy was a major piece of his public diplomacy and the embassy was outfitted with both a gallery and a theatre that we used with effect.
While the Diaries record the detail, the Gotlieb method is best described in a slim volume entitled I'll Be With You In A Minute, Mr. Ambassador: The Education of a Canadian Diplomat in Washington. It contains the Gotlieb "decalogue" for the conduct of the "new diplomacy" in Washington. It continues to be relevant, if not prescient:
The particular process by which a decision is reached in Washington is often so complex and mysterious that it defies comprehension.
The most important requirement for effective diplomacy in Washington is the ability to gain access to the participants in the decision-making process.
Given the vast numbers of players in the field of decision-making, and the great difficulty of predicting their likely behavior, the highest possible premium must be placed on political intelligence.
Since there are so many participants in decision-making, so many special-interest and pressure groups and so many shifting alliances, a diplomat cannot design any grand or overarching strategy to further his nation's interests. Every issue involves its own micro-strategy and every micro-strategy is unique.
In Washington, a foreign power is itself just another special interest and not a very special one at that.
A foreign power, as a general rule, has no permanent friends or adversaries on Capitol Hill.
A foreign power, as a general rule, has no permanent friends or adversaries within the Administration.
No permanent solutions are within reach of the ambassador or his government, only temporary ones. Instability is the norm, alliances and coalitions are always being forged, forces and counterforces are always mounting.
Effective diplomacy means public diplomacy. The line between public diplomacy and interference in local affairs is a thin one and thus it must be practiced with considerable finesse.
The best and often the only way to gain access to all the key players is through the social route. In Washington, parties are a continuation of work by other means.
Allan Gotlieb taught me many things: about policy and personalities, about public and cultural diplomacy. I benefited from his generous introductions to those in his remarkable network. He taught me about the United States and our conversations would inevitably come back to his belief that our success internationally would always hinge on our understanding of the Great Republic. "The U.S.A.," he would remind me, "is more than a country, it's a civilization." Americans were always interested in our insights about the rest of the world and this gave us leverage and the potential to influence, both in Washington and foreign capitals. Foreign countries were just as interested in our interpretation of the U.S. assuming that, because we were like them, we had special insight.
One lesson that served me especially well came when I travelled to St. John's with him and Sondra shortly after his appointment to Washington. It was a conventional program, including a meeting with the premier that revolved around a day-long conference at Memorial University.
But after we'd met the notables, Gotlieb informed me that  "conferences were like smorgasbord—you sample a bit here and there." One could always later read the prepared remarks, most of which were inevitably badly read. The real value of conferences, he told me, is the networking "so be there for the breaks." Diplomacy was about getting to know people and place. To get a "feel of a place," continued Gotlieb, you had to get out and see it for yourself.
So we played hooky and toured St. John's—the galleries, the port, Signal Hill, the cathedral and the basilica. There were impromptu meetings with the justice minister, the Fish Food and Allied Workers Union and the editor of The Telegram. The day rounded off with an evening that included John and Jane Crosbie. That was the Gotlieb way. It served Canada well.