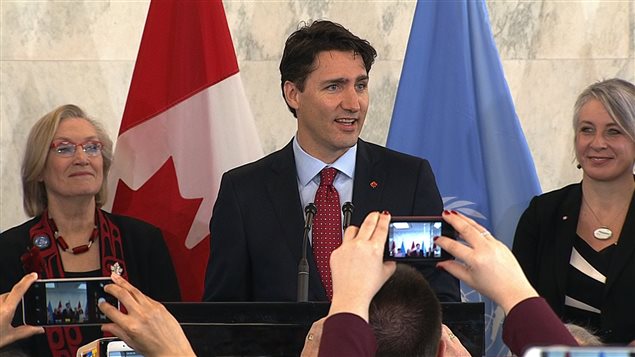 Prime Minister Justin Trudeau officially launched Canada's campaign for a non-permanent seat on the Security Council In the lobby of the United Nations headquarters in New York on March 16, 2016.
Photo Credit: ICI Radio-Canada
Prime minister seeks UN Security Council seat
Prime Minister Justin Trudeau went to United Nations headquarters to officially launch Canada's campaign to get a two-year temporary seat at the Security Council for the 2021-22 term. Among his arguments for were Canada's leadership at the Paris summit on climate change, its acceptance of 25,000 Syrian refugees, and what he called "Canada's pivotal role" in peace and security.
ListenLeader promises to revitalize historic peacekeeping role
He emphasized Canada's role as a peacekeeper and vowing "to revitalize Canada's historic role as a key contributor to United Nations peacekeeping, in addition to helping advance current reform efforts…
"And Canada will increase its engagement with peace operations, not just by making available our military, police, and specialized expertise, but also by supporting the civilian institutions that prevent conflict, bring stability to fragile states, and help societies recover in the aftermath of crisis," said Trudeau.
Previous bid lost, an embarrassing defeat
Canada's previous government had withdrawn from United Nations activity and was seen to have made a lacklustre run for a seat on the Security Council in 2010. It withdrew when it became evident Portugal would win the vote instead.   It was the first time in 50 years that Canada lost a bid to win a seat on the council.
'Time for Canada to step up once again'
After that government was defeated, newly-elected Prime Minister Justin Trudeau said, "Canada is back" as a player on the UN stage. Echoing the same message in the lobby of the UN Trudeau said, "It's time. It is time for Canada to step up once again."
Canada's chances of winning the vote for a temporary seat on the UN Security Council are good, in the opinion of Colin Robertson, former diplomat and vice-president and fellow of the Canadian Global Affairs Institute. He notes the Canadian public is proud of Canada's pioneering role in peacekeeping and is likely to approve of Trudeau plan to take a more active role in international affairs.
Reality check: Is securing a seat on the UN Security Council necessary for Canada?
By Monique Muise National Online Journalist, Politics Global News
WATCH: Global News chief political correspondent Tom Clark discusses what Prime Minister Justin Trudeau's strategy is for raising Canada's influence on the world.
Prime Minister Justin Trudeau began a two-day trip to New York City on Wednesday, and kicked things off with what will likely prove to be the centerpiece of his visit to the United Nations.
The prime minister confirmed that Canada will seek to re-join the powerful UN Security Council after failing — for the first time ever — to secure a seat around the table in 2010.
The upcoming bid for a two-year term starting in 2021 is part of a broader rapprochement between Canada and the United Nations that began with Trudeau welcoming UN Secretary General Ban Ki-moon to Ottawa in February.
Observers have noted that the warming trend may be politically advantageous for Trudeau as he attempts to position himself as a champion of UN priorities like refugee resettlement, tackling climate change and stabilizing the situation in the Middle East.
READ MORE: Trudeau at UN promotes parental leave for fathers, gender parity
But beyond the politics, what, if anything, would a seat on the Security Council really achieve for Canada?
WATCH: Canada lost its last bid for a seat on the UN Security Council in 2010, something Justin Trudeau is looking to change with a trip to New York. Jacques Bourbeau reports.
According to Paul Heinbecker, who served as Canada's UN ambassador during a period when it sat on the Security Council in the early 2000s, membership will allow Ottawa to influence policy at a high level, and that can be critical when dealing with health emergencies like the Ebola crisis, or mass refugee migrations.
"Canadians are looking at the world now and they're seeing a lot of upset, a lot of instability, a lot of risk that they didn't think that they faced before from terrorism," said Heinbecker.
"These things come to your doorstep … so I think it's very important that we have the opportunity to influence events."
Colin Robertson, another former Canadian diplomat and now vice president at the Canadian Global Affairs Institute, agreed with that assessment.
"If you think of, say, the House of Commons, you move from the back-bench to sitting in the cabinet. The Security Council is essentially the cabinet for the United Nations," Robertson said.
Canada is also one of the major beneficiaries of stable international trade, added Robertson, and by securing a seat, the country "can take an active role in helping to create and preserve that system. Instead of being a watcher, we would become an active participant."
Additionally, membership on the council fits in with the longstanding tradition of having Canada at the table, Robertson noted, and that's not as small a consideration as some might think.
"It's part of what our self-identity is about, more so than other places. Britain and France have long histories, this country doesn't have a long history. But the history we do have is, in part, as a player on the international scene."
Conservatives will support bid
Conservative foreign affairs critic Peter Kent said his party will support the Liberal government's efforts to regain a seat on the Security Council in 2021, but "we would hope that the government doesn't compromise the principled foreign policy positions that our government took, and which contributed in large part to our lack of success in 2010."
The Conservatives have always contended that Canada lost out to Portugal because the Harper government took unpopular stands on gay rights in Africa, staunchly defended Israel and flagged human rights issues in countries like Sri Lanka.
"There were a number of countries who … in the end, on the day of the vote, those votes when elsewhere," Kent said.