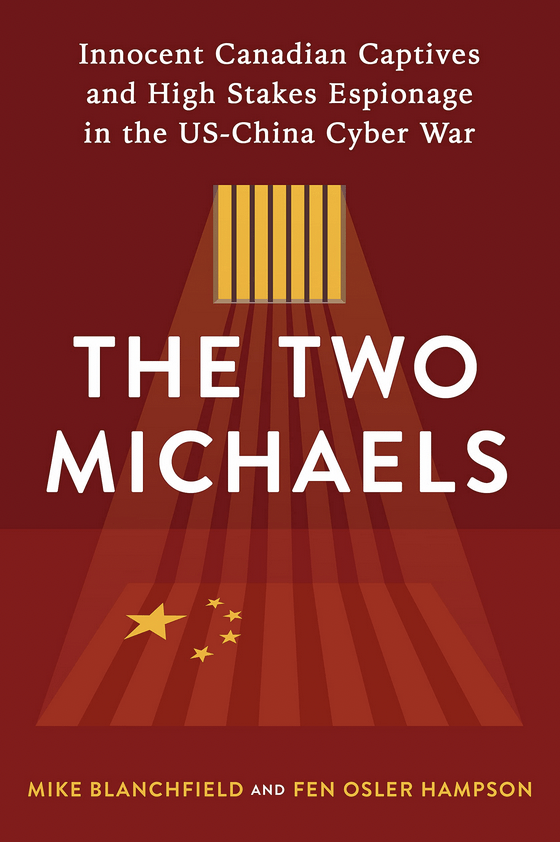 The Two Michaels: Innocent Canadian Captives and High Stakes Espionage in the US-China Cyber War
By Mike Blanchfield and Fen Osler Hampson
Sutherland House Publishing/November, 2021
Reviewed by Colin Robertson
December 1, 2021
Over their thousand days in captivity, the plight of the Canadian hostages known as "The Two Michaels" increasingly dominated public Canadian conversations about China. Now, we have a telling of the concurrent story that was unfolding behind the headlines in theTwo Michaels:  Innocent Canadian Captives and High Stakes Espionage in the US-China Cyber War.
For authors Mike Blanchfield and Fen Hampson, the book is their "letter" to Michael Kovrig and Michael Spavor. Blanchfield and Hampson have succeeded in their joint effort to "gain some insight into the broad geopolitical reason behind their imprisonment" and "what so many were doing to win their freedom."
Mike Blanchfield writes on foreign affairs for Canadian Press and his journalist's skill keeps this 260-page, 23-chapter account brisk and factual. Fen Hampson, Chancellor's Professor and Professor of International Affairs at Carleton University's Norman Paterson School of International Affairs, is one of Canada's foremost political scholars. His books, notably his superb account of Brian Mulroney's foreign policy, are rare examples of making academic research accessible and readable to the wider community. In this book, Hampson and Blanchfield draw on reportage — Canadian and international — as well as submissions and testimony from the Meng Wanzhou extradition hearings, among other sources. The book also benefits from their interviews with eminent Canadians including Mulroney, former UN Ambassador Allan Rock, respected attorney Brian Greenspan, longtime diplomat and former hostage Robert Fowler, as well as Vina Najibullah, whose articulate and passionate support for her husband, Michael Kovrig, did much to build public support.
The Two Michaels begins with the Trudeau government's decision in December 2018 to proceed with the US extradition request for Huawei executive Meng Wanzhou and follows through the many efforts of governments, legislators, diplomats, lawyers, eminent persons and civil society that ultimately helped secure their release in late September.
Reading The Two Michaels left me with three main observations and a recommendation:
First, Canadian governments need to proceed with great care and circumspection when it comes to extradition requests because they can blow up in your face. Mr. Trudeau's admission that he was well aware of the US request infuriated Beijing and led to the seizing of the two Michaels as hostages as well as the application of various economic measures designed to coerce Canadian compliance.
Did those advising Mr. Trudeau think through the implications of our actions? Other nations were also approached to arrest Meng as she traveled through Asia and Europe in late 2018, but demurred. We did not and came out looking like chumps. Better to have followed John Manley's advice to have shown some 'creative incompetence' at the Vancouver Airport an let her continue with her onward flight to Mexico.
Having seized Meng Wanzhou, the Trudeau government then doubled down, cloaking itself with their interpretation of 'the rule of law'. This left no room for maneuver, a cardinal sin in diplomacy. For Beijing, this reinforced the argument that Canada was simply a  puppet of the United States. As Blanchfield and Hampson relate, there was considerable legal counsel, including that of eminent defence lawyers and former Supreme Court justices, to cast doubt on the government's high-mindedness.  It did not help that our then Canadian ambassador to China, John MacCallum, a former Trudeau minister publicly shared his misgivings in contradiction to the government line.
If the two Michaels are the heroes of the book, the villains are Donald Trump and Xi Jinping.
The second observation is that the two Michaels behaved with grace and courage throughout their ordeal. And it was an ordeal. Having visited Chinese jails as a consular officer I can tell you they are not a place in which you'd want to spend any time. Kovrig and Spavor found solace in exercise, meditation and, when they were finally permitted, the luxury of reading. The choice of Viktor Frankl's Man's Search for Meaning is poignant. One of my father's favourite books, it recounts Frankl's survival through the Holocaust and life in Auschwitz based on this principle: "The one thing you can't take away from me is the way I choose to respond to what you do to me. The last of one's freedoms is to choose one's attitude in any given circumstance."
A third observation: If the two Michaels are the heroes of the book, the villains are Donald Trump and Xi Jinping. As President Trump told John Bolton, his then national security advisor, Meng Wanzhou was the "the Ivanka Trump of China." In the looming Sino-US confrontation, she would be parlayed in exchange for unspecified Chinese concessions in the battlefield over technological supremacy. If Mr. Trump got Canada into this mess, then Joe Biden got us out by making it clear to Xi Jinping that to continue holding the two MIchaels would be an impediment to any improved relationship. The swap would never have occurred without American pressure. It was baffling that anyone described the timing of the joint departures — Kovrig and Spavor to Canada and Meng Wanzhou to China — as coincidence.
The dramatic plunge in how Canadians and our western allies now view China is due to a number of factors; concerns over human rights in Xinjiang, the crackdown in Hong Kong (home to over 3000,000 Canadians), its aggressive behaviour with Taiwan and towards its neighbours in the South China Sea. Then there is its wolf warrior diplomacy of which Canadians have had more than a taste. While we can debate whether China is a superpower, it eclipses India and Japan  as a dominant Asian power according to the Lowy Institute's Power Index. Xi has abandoned Deng Xiaoping's advice to "Hide your strength, bide your time, never take the lead."  For Xi , "The East is rising and the West is in decline." Xi's answer to those who refuse to kowtow is to apply coercive diplomacy as punishment. It also serves as a deterrent. As the old Chinese idiom goes, "kill a chicken to scare the monkeys".
The best advice on handling Xi Jinping and his coterie in the Chinese Communist Party comes from former Canadian ambassador Rob Wright and is referenced in the Two Michaels. Wright, who also served as our ambassador to China and deputy minister of International Trade, told the House of Commons special committee on China that, "To the extent that we can influence the government of China on their form of detention, we [should] do so." As to the best way to deal with China, Wright observes:
"My own view is that little is achieved by shouting publicly, loudly, at the Chinese on these issue… What helped was deliberate, ongoing, diplomatic contact with Chinese officials, working with them to ensure that Canadian citizens were treated fairly, that we had access to them, and that they were given a fair hearing under Chinese law to the extent possible…we need to maintain a strong diplomatic presence there and a deliberate context, but to the extent possible, not turn these into public issues that made them, in some cases, more difficult to manage."
Managing an aggressive China is the challenge of our times. The Declaration on Arbitrary Detentions is a positive step. Now endorsed by 66 nations and the European Union, it brings to bear the power of multilateralism. But now we need to add teeth to the Declaration, likely drawing on the Magnitsky laws now on the books of many western nations. They target the individual perpetrators of human rights abuses by hitting them and their families in their ability to bank, travel and reside in democracies.
As this book attests, we've got to expunge hostage diplomacy as a tool of statecraft. We owe it to the two Michaels.