DM Peter Boehm earns colleagues' respect as mentor, mental health advocate
Leading the government's foreign aid portfolio, the new DM has worked his way up his department over 30 years in the public service.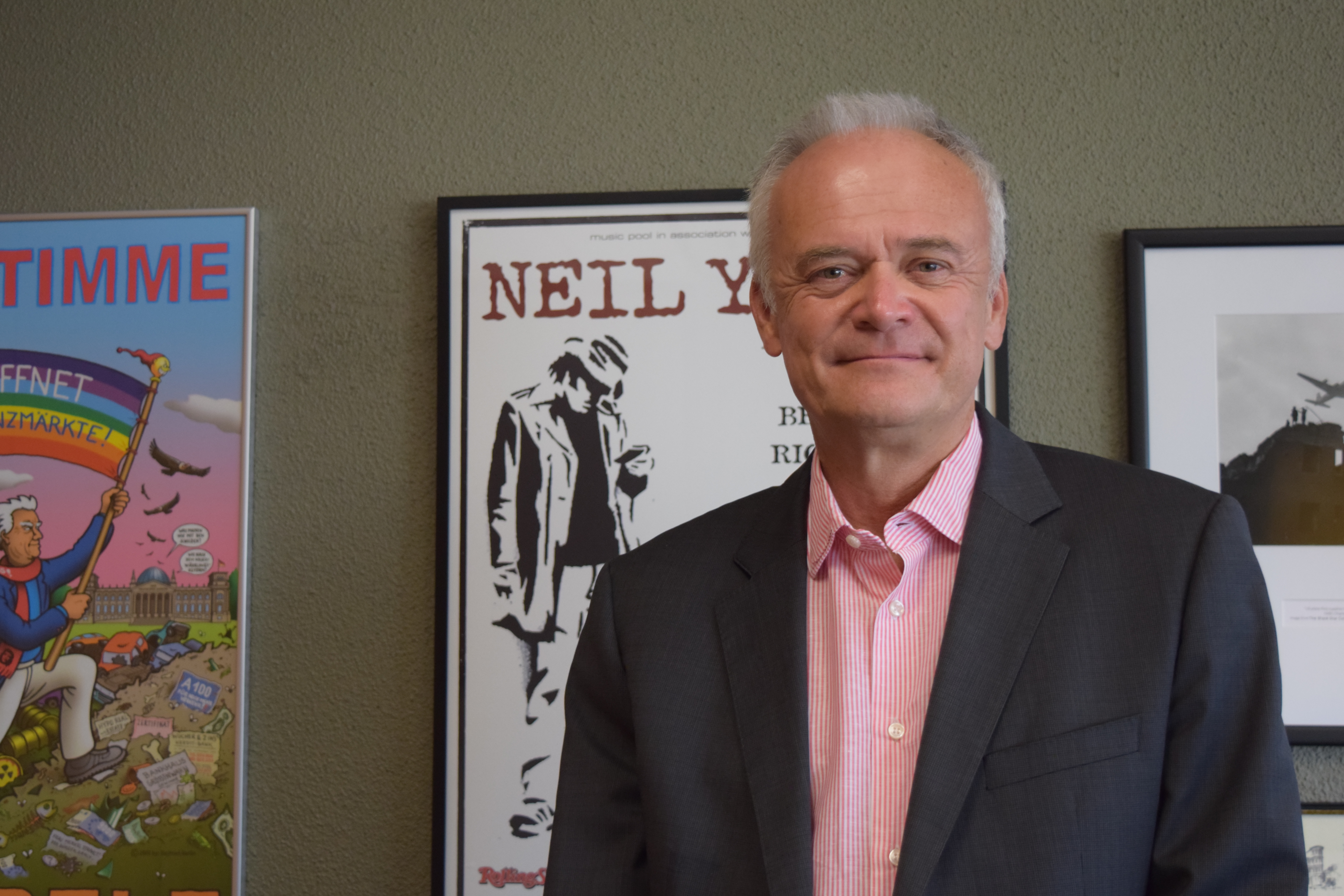 Peter Boehm, a longtime foreign service officer recently made deputy minister of international development, in front of a Neil Young poster hanging in his office at Global Affairs last week. The Hill Times photograph by Chelsea Nash
PUBLISHED : Wednesday, Sept. 7, 2016 12:00 AM
When I emailed Peter Boehm, the new deputy minister for international development, for an interview, he responded almost immediately. He'd be happy to speak with me, either over the phone or to meet me in person at his office. It was a pleasant surprise: high-level government officials such as Mr. Boehm are rarely so accessible and generous with their valuable time.
As Janice Stein, a friend of Mr. Boehm's and founding director of the Munk School of Global Affairs at the University of Toronto said, "When people become deputy minister, every five minutes counts." She herself has not spoken to him since he assumed his new role, as acting deputy minister in November, and as confirmed deputy minister in March.
But open and approachable are exactly the words former colleagues and friends use to describe the career diplomat. He's the "quintessential diplomat," says former Canadian diplomat Colin Robertson, and "uniformly highly regarded," says Tim Hodges, former head of the Canadian diplomats union Professional Association of Foreign Service Officers, and a friend and colleague to Mr. Boehm.
He has a large presence. A tall man, he stands out in any crowd, but he also has the sometimes-intimidating aura of someone whose approval needs to be earned. "Professional, curious, well-read, well-travelled, and deliberative in his judgments," is how Mr. Robertson described him in an email.
He has a dry sense of humour, and is quite soft-spoken, though he doesn't hold back while answering questions.
Mr. Hodges, who worked directly under Mr. Boehm at Canada's embassy in Washington, D.C., and regards him as a mentor, said as much. Mr. Boehm was minister in charge of political and public affairs there from 2001 to 2004.
"He's a tough brief, in the sense that he will read what you send him, and he will digest it, and you had better be up to speed when you get back to have a discussion about what you've written," he said. A demanding boss, but in a good way, said Mr. Hodges, because he doesn't simply ask for the best, but demonstrates it. Above all else, he is a leader, he said.
"He's been my mentor, whether he knew it or not, for many years. I think he's been a mentor for many other people…He not only cares about people, but he cares about people moving up through the system. That is usually voluntary; it's not required for the job. It usually is after-hours, or find time at lunch time to have a sandwich with someone and talk about a problem," he said, speaking of the extra effort that Mr. Boehm has given the department over the years.
The DM has been with the department since he first joined as a foreign service officer more than 30 years ago. He is the only deputy minister in the department to bring first-hand experience within the foreign service—18 years worth, in fact—to the position.
Born in Kitchener, Ont., he grew up speaking German and English, and received a bachelor of arts in English and history from Wilfrid Laurier University in the region in 1977, according to biographies of him by his alma mater and his department.
His time at Carleton University's Norman Paterson School of International Affairs, where he earned his master of arts in 1978, first sparked his interest in the foreign service. He applied then, but never heard back. So instead, he went to the University of Edinburgh on a scholarship, where he completed his PhD in history. At the time, teaching seemed to be the natural course of action for him, however, he wasn't having much luck with his applications. He decided to try the foreign service again. This time, he heard back.
Next thing he knew, he was on his first posting in Havana, Cuba. He hopped after that to places including Germany as ambassador  from 2008 to 2012, and San José, Costa Rica. He's also been ambassador and permanent representative to the Organization of American States from 1997 to 2001, and from 2005 to 2008, he was the senior official responsible for the North American leaders' summits. Along the way, he's earned the Public Service of Canada Outstanding Achievement Award and the Canadian Foreign Service Officer Award for his help toward achieving peace in Central America.
"It's fair to say he's a very results-oriented person, and he wants to deliver. He's focused always on: what's this going to deliver? How are we going to execute this? I think that's a very good combination, to be open at the front end and focused at the back end," said Ms. Stein.
Aid program review wrapping up
Interestingly enough, "open at the front end and focused at the back end" seems to mirror the format of the international development review the department is in the process of wrapping up. Public submissions on the future of Canada's foreign aid program stopped being accepted at the end of July, and Mr. Boehm said they are in a period of "internal assessment, and trying to see what are the policy thrusts we are going to suggest to the minister."
It was the first review of its kind the department has done, he said. Both in terms of the technology used to conduct the review—the department had a portal on its website to accept input—as well as the format of the review itself: the department accepted thousands of submissions from "really anyone in the world."
Mr. Boehm said "a number of trends are already emerging," including a focus on women and girls, and their rights and empowerment. Education and climate change are also important themes, he said.
"It's a very exciting moment because there's never been a consultation that has been undertaken in this way in our history," he said, "in terms of really trying to get the most input from as many actors as we can, and trying to come out with a policy that is very 21st century, that is very forward-leaning, and can serve as an example for other countries."
He said in his capacity as G7 sherpa—representative of the prime minister to the G7 summit—he has also been consulting with his counterparts from other countries for the development review, and talking to them about their challenges and successes.
"There is an exponential need for humanitarian assistance. The needs are high, but we also have traditional development. There's a squeeze there in terms of how we use the budget, the dollars, to greatest effect. That also suggests looking at new and creative ways of programming and addressing these challenges," he said.
Mental health advocate
Mr. Boehm also has a reputation for advocating for mental health initiatives, and has made great strides within the department to provide a support structure for foreign service officers.
Ms. Stein said mental health "was an important issue for him long before it became an important issue for many people…He does it in a very quiet, but very persistent, way—which again, reflects who he is."
Mr. Boehm attributes his determination to advance mental health initiatives and to reduce stigma to his own experience. One of Mr. Boehm's sons, who was born abroad, is autistic.
"Just travelling with him, and making sure he gets the supports he needs was probably the greatest challenge of my life," he said. "I've been pushing it and I've blogged about it internally in terms of my own experience. And if I can talk about it, and write about it, then why can't others?"
He is the father of three other children as well, ranging in age from 12 to 33. They are all over the globe, from Vancouver to Budapest, doing "different things." None want to follow directly in his footsteps, he said, though they all seem to have caught his interest in international affairs.
"My 12-year-old, I have a plan for her," he said with a coy smile. "Prime minister."
The 62-year-old was reluctant to admit his age, saying he doesn't think like he's 62. That's what his 12-year-old daughter tells him, anyways. And, having only been in his current position since November 2015, Mr. Boehm said retirement is not on his horizon anytime soon.
"Oh I'm not gone yet," he said. "I'd like to stay involved in international issues. I think I have contributions to make."