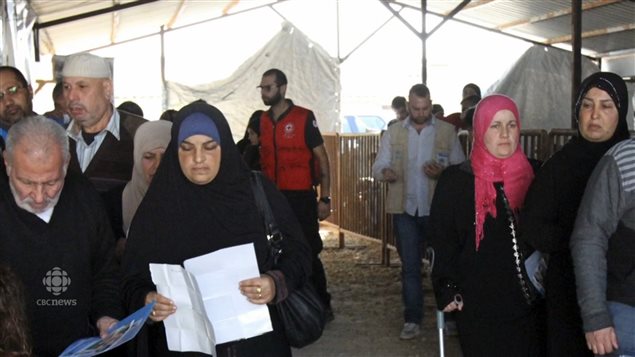 Canadian officials have assured U.S.counterparts that Syrian refugees face multiple layers of security screening before they are settled inside Canada.
Photo Credit: CBC
U.S. scrutinizes Canada's screening of refugees
The U.S. Senate Committee on Homeland Security and Governmental Affairs is hearing testimony on Canada's process of quickly bringing in 25,000 Syrian refugees. Some prominent American leaders have expressed concern that Canada's screening of refugees may not be adequate and that dangerous people could too easily cross the Canada-U.S. border. About 400,000 people cross every day.
Canada uses several layers of security screening
Canada's Public Safety Minister Ralph Goodale has told his American counterparts that Canada employs several layers of security screening. Only refugees screened and approved by the United Nations High Commission for Refugees are chosen. They are then screened by Canadian officials abroad and biometrics are collected.
This is by no means the first time prominent Americans have suggested terrorists have easy access to the U.S. from Canada. Canadian officials have had to work hard to dispel the myth.
Terrorist myth persists
"Ever since (the terrorist attacks of) 9/11, there has been this sense amongst many well-placed Americans including people like the chair of the Armed Services Committee and former presidential candidate John McCain and current presidential candidate Hilary Clinton that some of the bad guys came in from Canada. It's not true. It's mythology. But it remains there out as a kind of suspicion," says Colin Robertson, a former Canadian diplomat and vice-president of the Canadian Global Affairs Institute.
ListenNo 'fast pass' into the U.S.
Robertson points out that after multiple screenings, refugees are still not granted easy access to the U.S.  "They still come as stateless or Syrian citizens. They can't travel to the United States without filling out all the forms that the Americans require…So it's not as if they are getting a fast pass into the United States through the back door of Canada."
Some Americans would like to step up border security measures by having Canada share its no-fly list and by having both countries share entry and exit information about people crossing the common border. Canada is reluctant to do so because there is more pressure to respect privacy concerns.